In 1941, Howard and Gladys Gibson purchased 120 acres four miles north of Junction City, beginning a way of life that continues today. They worked the land and raised livestock. Soon, they had a dairy farm with 100 cows and five young children – the beginning of their legacy.
Since then, the farm has grown to over 3,000 acres and 1,400 Holstein cows. Today our family and employees follow a sustainable system that keeps the entire lifecycle close to home and ensures quality and freshness. And never have we used artificial growth homes on our cows.
In 1965, along with his three sons, Howard built a processing plan and opened five Dari Mart convenience stores to sell his milk directly to people in the community. Today, we deliver our milk twice a week to all 44 Dari Mart stores, ensuring that our customers have milk within 48 hours of milking. With our own grocery distribution center, we source the freshest, highest quality products and deliver them weekly.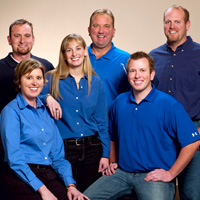 Dari Mart employs more than 500 people throughout Lane, Linn and Benton counties. We support local companies and donate to countless community organizations every year.
We're proud to deliver personalized customer service and fresh quality food at the best prices.
Gladys was dedicated to this business and family and came in every week until the end.